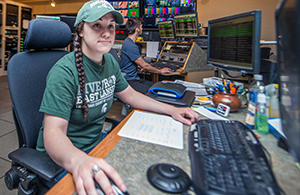 Student hourly employees at MSU can expect something extra in their paycheck.
The Board of Trustees approved a 4 percent pay increase effective August 7, 2016. The raise was processed in the HR/Payroll system July 25 through August 5. Students who have an active record as of August 7 will receive a 4 percent increase to their current hourly wage.
Please note that retroactive pay increases that are effective earlier than August 7, and are received after the raise has been applied, will cause a recalculation of the four-percent raise.
Student hourly employees received the same wage increase last August. Student supervisors can view the Student Employment Manual for more information about working with student employees.
Please contact MSU Payroll at 517-355-5010 or payroll@ctlr.msu.edu if you have any questions.