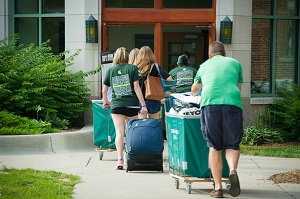 Hopefully you have enjoyed these past quiet summer months, but it's nearly time to get back into the swing of things. The essence of the university, students, arrive in the thousands just before classes begin on Wednesday, August 31. You have the opportunity to help MSU and the local community in a big way: by volunteering to help move students in and donating to Fill the Bus.
Last year, more than 500 people signed up with the Alumni Association to come back and help new Spartans move in to their residence halls. You can choose when and where to volunteer; pick a residence hall and a shift on Saturday, August 27 through Monday, August 29. Sunday will have the most need for volunteers.
Volunteers get a free T-shirt and a complimentary meal in one of the dining halls. Learn more and register here.
Younger students in the Lansing area need your help, too. The 8th annual Fill the Bus event, organized by the Office of the Associate Provost for Undergraduate Education and the Center for Service-Learning & Civic Engagement, will take place August 28 to September 2. Your donated notebooks, backpacks, pencils and other school supplies will fill up a bus and be sent directly to the children and classrooms that need them. You can find donation bins either in your building, provided by your department's team captain (register your team here) or in various locations on campus.