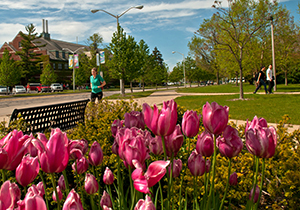 Spring officially begins on Sunday, March 20. It's time to pull pastel-colored clothes out of the back of your closet and dust off the lawnmower. The arrival of spring marks popular activities such as redecorating, gardening, and outdoor exercise. Here are a few events and activities in and around MSU to help get you into the spring spirit.
Home and Gardening
The Lansing Home and Garden show is at the MSU Pavilion from Thursday, March 17 to Sunday, March 20. The show features and abundance of exhibitions, demonstrations and seminars that can guide you on your way to creating your dream home and garden.
Exercise
The mid-range temperature of spring is perfect for outdoor exercise. These upcoming 5K races offer a great opportunity to give back to the community and exercise all at once:
March 20: Shamrock 5K Run – Walk – Roll
March 26: Irondog 5K
April 2:Run for Hope
April 3: Hoofin' it for the Horses
April 9: Healthy Hustle 5K
April 17: Race for the Place
Find additional upcoming races here.
In addition, the outdoor recreational sports facilities are open for the spring, including the Forest Akers golf courses (although the front nine holes of the east course open after April 1) and tennis courts. For rainy days, staff and faculty can utilize open recreation at IM facilities for activities such as basketball, volleyball, racquetball and swimming.
Finally, you can view nature coming back to life by walking the variety of MSU walking loops or the Lansing River Trail.
Sports
With a Go Green card faculty and staff can cheer on upcoming Spartan spring games such as baseball and softball. Golf, tennis, and track and field are free.