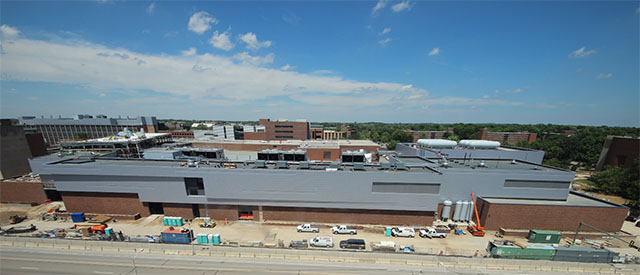 Chances are, you've passed by the ongoing construction on the corner of Wilson Road and Bogue Street. You might have been curious about research taking place in National Superconducting Cyclotron Laboratory, or what the under-construction Facility for Rare Isotope Beams has in store for the future. Now, you have the opportunity to get a sneak peek inside these state-of-the-art facilities.
The FRIB and NSCL will have an open house on Saturday, August 20, from 1 to 4 p.m. People of all ages are welcome. During the open house, you can expect the following:
Explore the fields of FRIB research with several hands-on activities and demonstrations.
Meet nuclear scientists as they talk about their work on the frontiers of rare-isotope research.
Tour the FRIB linear accelerator tunnel and surface building.
Tour the currently operational experimental areas in the National Superconducting Cyclotron Laboratory that will be used in FRIB experiments.
Enjoy some educational videos in the "FRIB Theater."
This is the chance to step inside a facility that will be instrumental in the advancement of scientific knowledge; it's a place for important research and discovery in the areas of rare isotopes, nuclear astrophysics and more.
No RSVP is required, through you can RSVP at the open house Facebook event. Both admittance and parking are free.