"Vegetables are interesting but lack a sense of purpose when unaccompanied by a good cut of meat." Fran Lebowitz
The MSU Meat Laboratory has been teaching and educating future meat scientists for years. The Lab has also provided quality meat products to the MSU community. The 67,000 square foot facility is located in Anthony Hall and is directed by the Department of Animal Science and the Department of Food Science.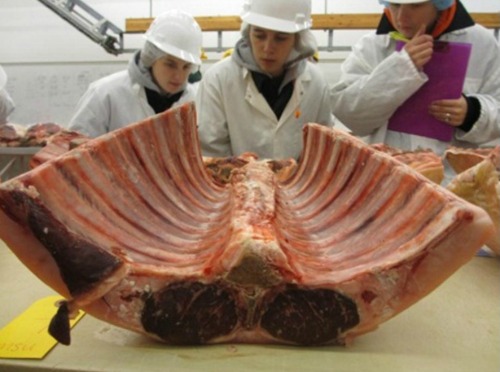 The Lab focuses on four areas: education, outreach/extension, meat judging and student employment. The Lab provides carcasses for class instruction and research projects. The Lab in conjunction with Meat Extension Specialists provides materials that educators use in trainings for youth and meat consumers. The Lab also provides employment opportunities for students to gain additional experience in the meat processing industry. In addition, the MSU Meat Lab competes in multiple meat judging programs each year.
Product availability varies during the year. All meat sold by the MSU Meat Lab originate at the university farms south of campus. Beef comes from both the Beef Feedlot Teaching and Research Center and the Dairy Teaching and Research Farm. Lamb comes from the Sheep Teaching and Research Farm and pork is from swine raised at the Swine Teaching and Research Farm.
The animals are slaughtered under USDA inspection and all meat provided by the MSU Meat Lab is refrigerated.
For a current list of products and prices or to make a purchase visit the Meat Lab in Anthony Hall or contact Jennifer Dominguez at 517-353-9773 or doming21@msu.edu.
To find out more information about the MSU Meat Lab visit their website or check out their Facebook page.