It's back! Annually hosted by the MSU Museum, the Great Lakes Folk Festival (GLFF) will be rolling into town this weekend. The event assembles an eclectic mixture of art, entertainment, and food, rallying the community together for a celebration of ethnicity with a whimsical feel. This year's dynamic acts span a variety of cultures and showcase a myriad of talents. Enjoy a live recitation from Tibetan monks, participate in a clogging workshop, or learn about the history of African tradition; the possibilities are both numerous and enriching.
After viewing the festival's diverse performances, visit the GLFF Marketplace to browse the wares of some incredibly talented artisans. From natural herbal remedies to handmade sterling silver and copper jewelry, hundreds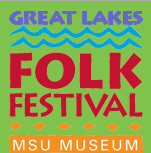 of unique items will be up for sale. To satisfy the inevitable appetite that will form while attending the festival,  be sure to sample the GLFF's delicious cuisine. Vendors will prepare a cultural smorgasbord of food, including Tex-Mex, Asian, and Middle-Eastern varieties.
The GLFF brings more still to the table. Other features, such as informative children's programs and an honorary ceremony for recipients of the Michigan Heritage Awards, will also contribute to the festival's flair. Ready to immerse yourself in a compelling cultural experience? Be sure to attend! The Great Lakes Folk Festival begins tomorrow, August 8th, at 6 p.m. For additional information, visit the GLFF's website.